Orthopedics
Orthopedics, or Orthopedic Surgery, is the field of Medicine dealing with bones and joints, as well as their supporting structures. Becoming an orthopedic surgeon requires completion of a five-year training residency after graduating from medical school. Such long training is needed to gain necessary proficiency in diagnosis and treatment (both surgical and non-surgical) of fractures, dislocations, tendonitis, bursitis, ligament tears, tendon tears, muscle ruptures, nerve injury, bone tumors, and many other conditions. Following this five-year residency, many opt for an additional year or more of fellowship training in one of the subfields of Orthopedics. This helps further increase expertise in addressing issues in that particular area. The main subfields of Orthopedic Surgery are: Pediatric Orthopedics; Arthroscopy and Sports Medicine; Hand; Joint Replacement; Spine; Musculoskeletal Tumors; Foot and Ankle; Orthopedic Trauma.
To be Board Certified in Orthopedic Surgery requires residency completion followed by passing a rigorous written examination and then an oral examination based upon actual cases performed by the applicant. To be certified in the subfield of Orthopedic Sports Medicine one must first become Board Certified in Orthopedic Surgery, then submit a list of cases performed in the area of Sports Medicine or Arthroscopic Surgery, and finally pass a comprehensive written examination.
Note:  Some people prefer the traditional spelling "Orthopaedic" but most use the more modern spelling "Orthopedic". Also, the bones and joints of the skull and face (along with their supporting structures) are not within the field of Orthopedics, but rather are variably dealt with by the fields of Neurosurgery, Plastic Surgery, Otorhinolarongology, and Oromaxillofacial Surgery.
X-ray of a Humerus Fracture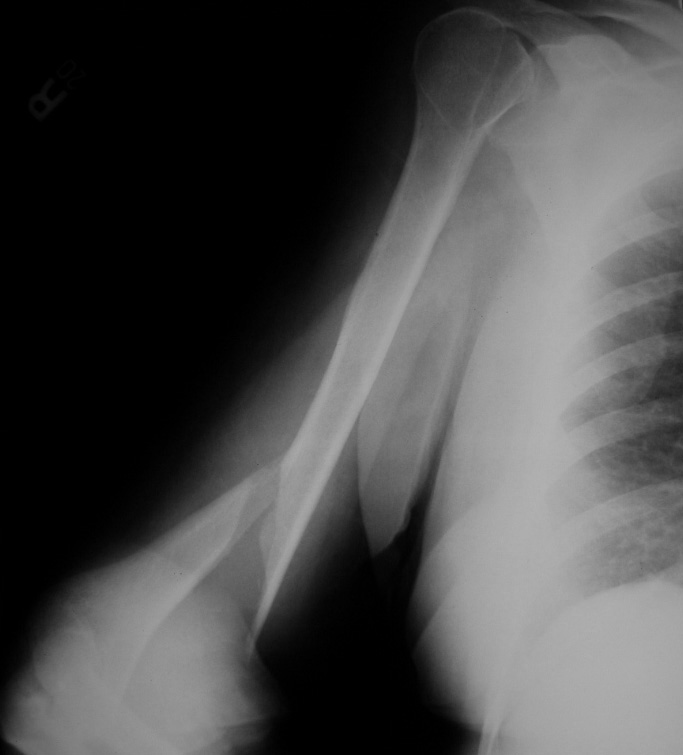 X-ray of the same Humerus Fracture after being repaired with a metal plate and screws.